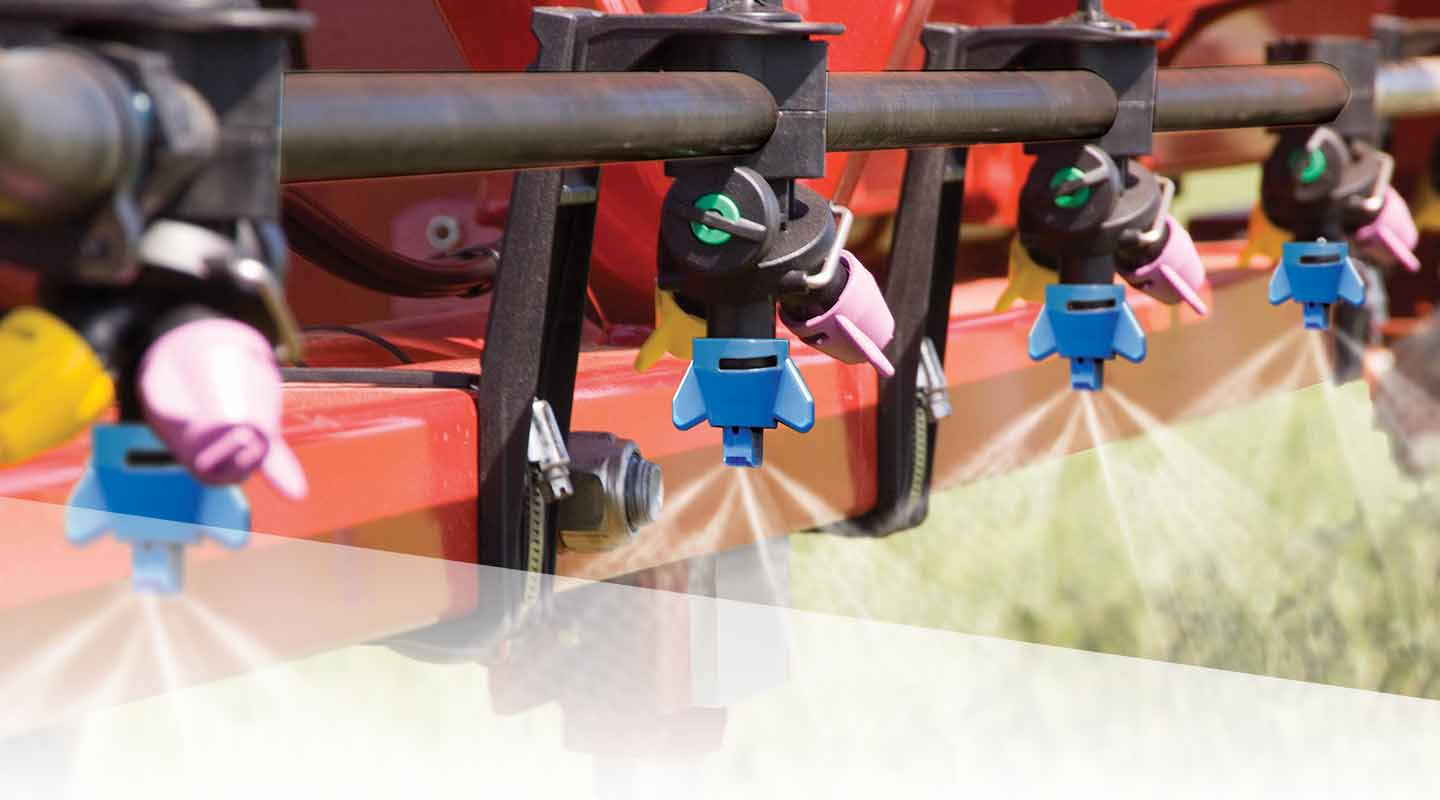 Cone nozzles
The HARDI Cone nozzle is a versatile, high-quality nozzle with many uses.
Fitted with a choice of 4 swirl plates, it is recommended for hollow-cone or full-cone application of plant protection products with mistblowers as well as boom sprayers and backpack sprayers. The choice of swirl plate determines the droplet size - from very fine droplets (hollow cone) to medium droplets (full cone). Large-drop adaptor available for a very coarse droplet spectrum.
Fitted without a swirl plate, the nozzle transforms into the perfect tool for accurate application of liquid fertiliser with a boom sprayer. This nozzle provides accurate flow with a minimum risk of scorching. Add a HARDI Foam nozzle on top, and you will get a flat fan of extremly coarse droplets with a spray angle of up to 150°, excellent for spraying broadleaf crops with fertiliser. The large air bubbles in the droplets will be reflected on the leaves and minimise risk of scorching.
The HARDI Cone nozzle is made of precision-moulded SYNTAL thermoplastic for excellent durability and reproducibility.
65° FLAT FAN nozzles
The HARDI 65° FLAT FAN nozzle produces an elliptical, flat-fan spray pattern with a 65°-angle.
Working pressure: 1.5 to 10 bars
Boom height: 70 to 80 cm
Precision-moulded SYNTAL thermoplastic
This nozzle is also suitable for industrial use.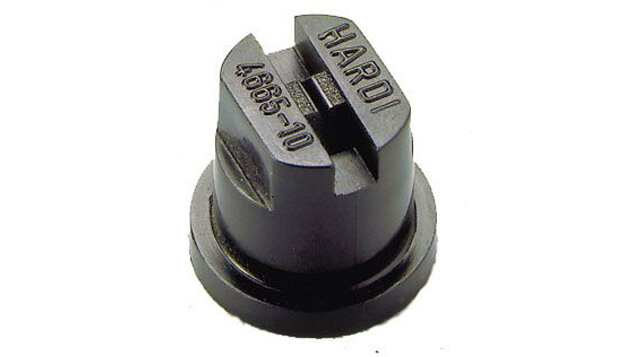 25° FLAT FAN nozzles
The HARDI 25° FLAT FAN nozzle delivers an elliptical, flat-fan spray pattern with a 25°-angle. The narrow angles produces a high-impact spray, which is well suited for cleaning as well as for long-range spraying of bushes and trees.
Working pressure: 2 to 25 bars
Precision-moulded SYNTAL thermoplastic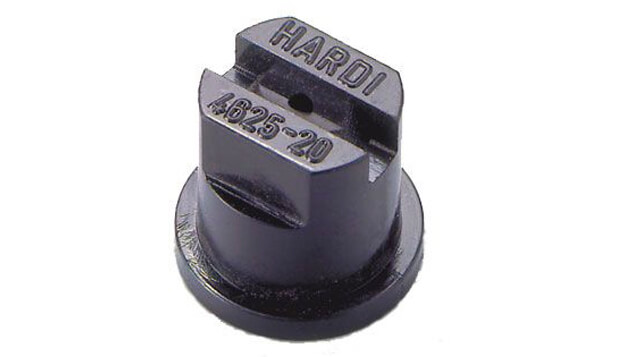 Misting nozzles
The HARDI Misting nozzle produces a hollow-cone spray pattern of very fine droplets. The nozzle's low flow rate and extremely fine atomisation make it suitable for adjustment of temperature, humidity or dust.
Flow rate: 0.2 to 0.32 l/min (at 2 to 5 bars)
Nozzle consists of tip and swirl plate
Precision-moulded SYNTAL thermoplastic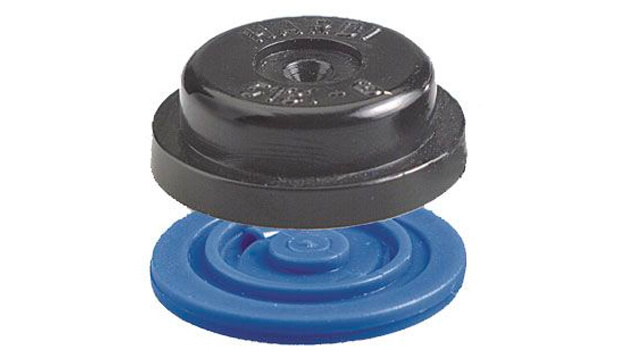 Deflector nozzles
The HARDI Deflector nozzle produces a slowly dispersing cloud in a 360°-round spray pattern. This nozzle is useful for increasing humidity in greenhouses, for example.
Working pressure: 1 to 10 bars (optimal atomisation up to 5 bars)
Precision-moulded SYNTAL thermoplastic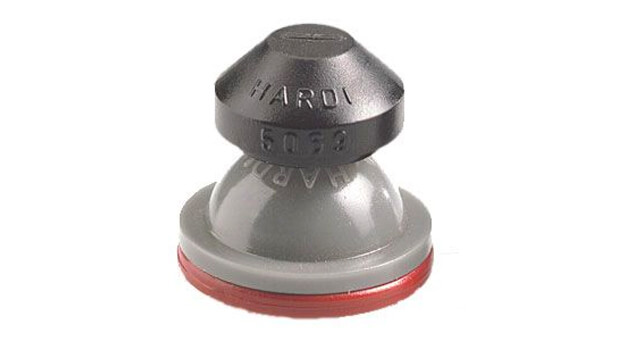 Multi-Hole Rinsing nozzles
The HARDI Multi-Hole Rinsing nozzles are standard equipment on all HARDI sprayers. Tests have demonstrated that this is the most efficient way to clean chemical containers and bags. These nozzles can also be used for certain irrigation purposes.
HARDI offers 3 types of Multi-Hole Rinsing nozzles. The first one produces 40 solid streams at a working pressure of 1.5 to 5 bars, while the other two have slits to produce rotating spray swaths. One of them comes with a pointed top for easy foil opening.
All HARDI Rinsing nozzles are made of precision-moulded thermoplastic.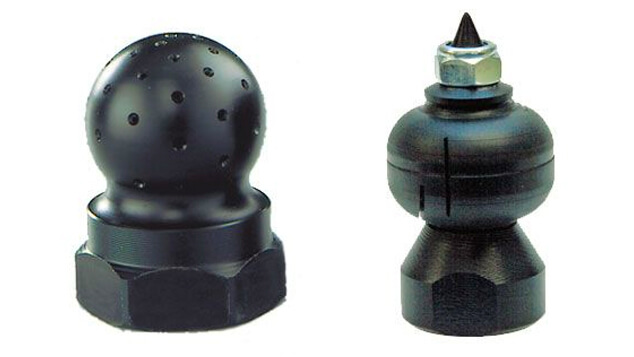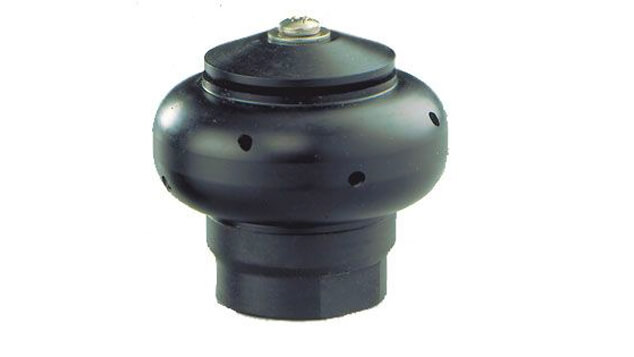 Tank Cleaning nozzles
The HARDI Tank Cleaning nozzle is used for cleaning the inside of sprayer tanks. The rotating nozzle's 8 differently angled holes produce 8 high-impact, solid streams for a thorough wash of the entire inner surface. A cleaning agent can be added for degreasing.
All HARDI field sprayers can be equipped with one or more Tank Cleaning nozzles.
Precision-moulded SYNTAL thermoplastic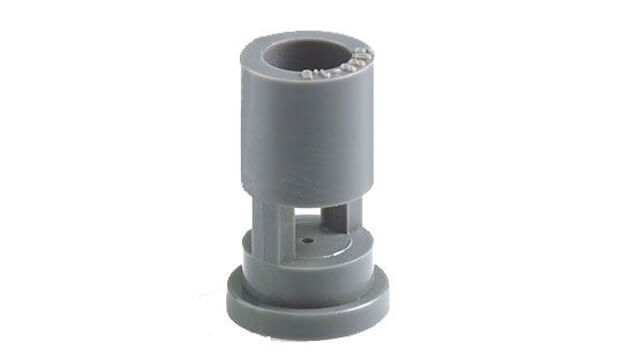 Agitation nozzles
The HARDI Agitation nozzle is used for tank agitation on all HARDI sprayer tanks. Too little agitation can result in uneven and inconsistent application. Too much can cause the pesticide to foam. Obtaining perfect mixing is essential.
The nozzle is designed to make full use of the Venturi effect, increasing the effective agitation several times in relation to the volume passing through the nozzle.
This nozzle is a key component of HARDI's outstanding AutoAgitation system. This automatic system prevents foaming by regulating the flow as the tank empties. It also minimises liquid residues after spraying. Furthermore, this nozzle plays a role in filling and washing processes.
Working pressure: 1 to 15 bars
Precision-moulded SYNTAL thermoplastic