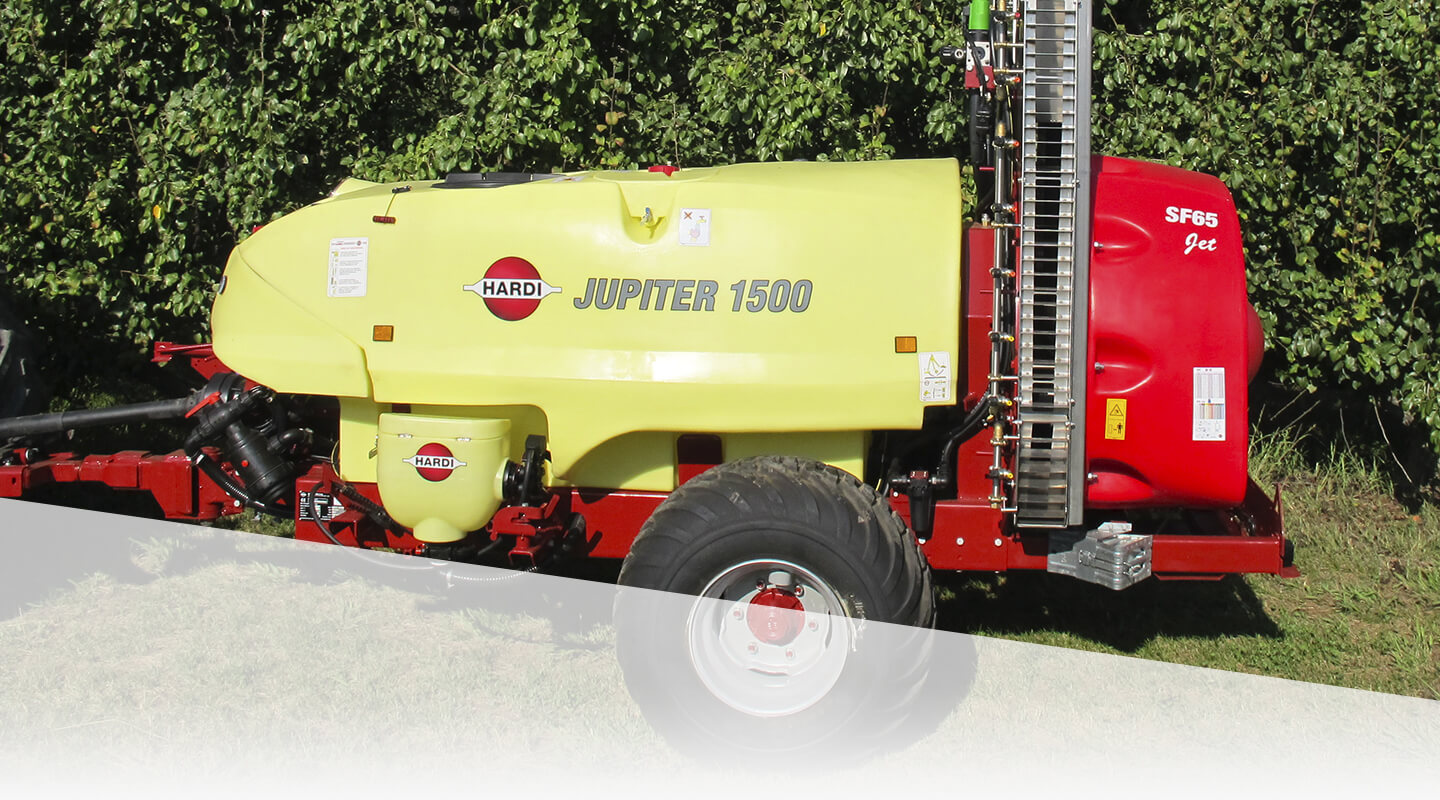 JUPITER
Tank Capacity
1500 / 2000 / 3000 l.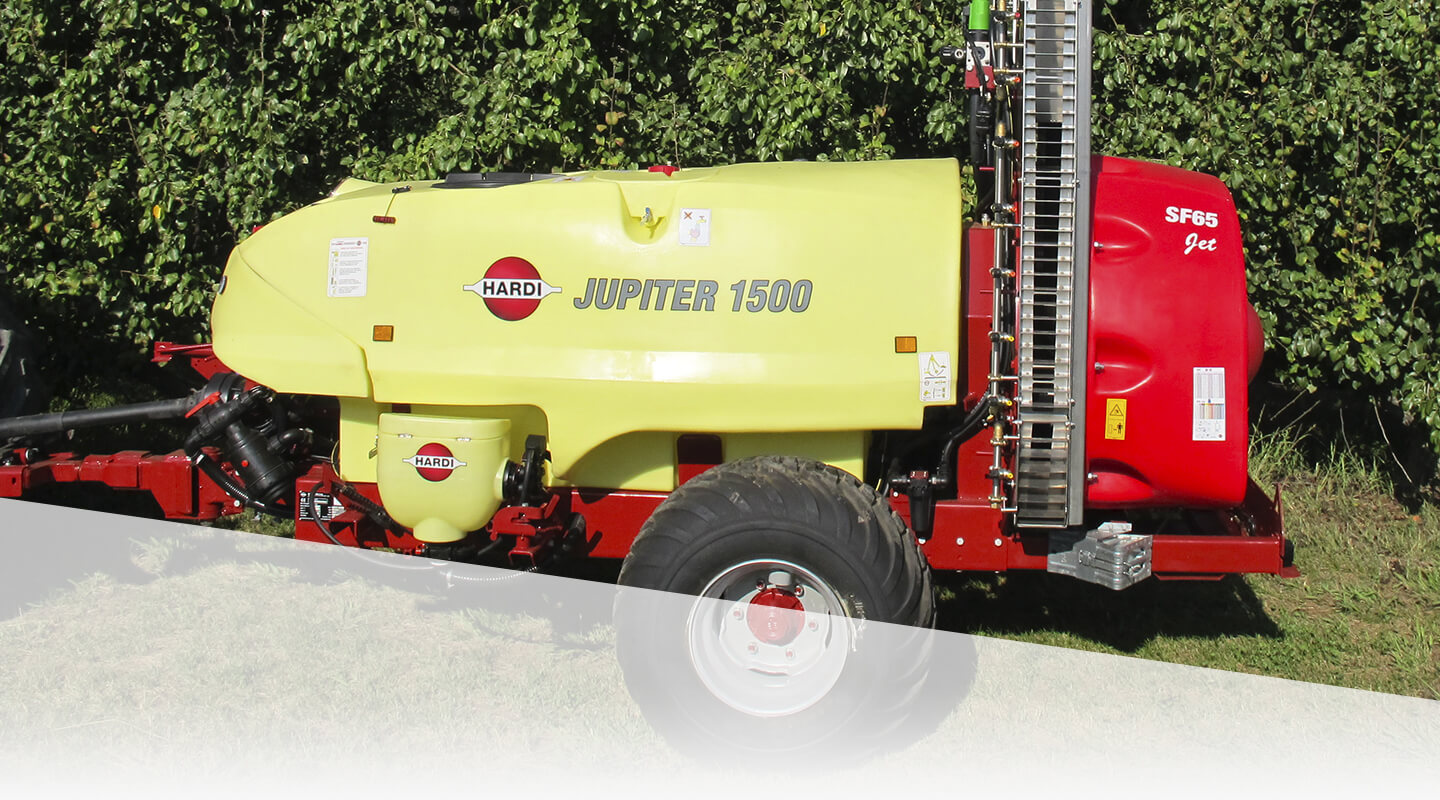 Tank Capacity
1500 / 2000 / 3000 l.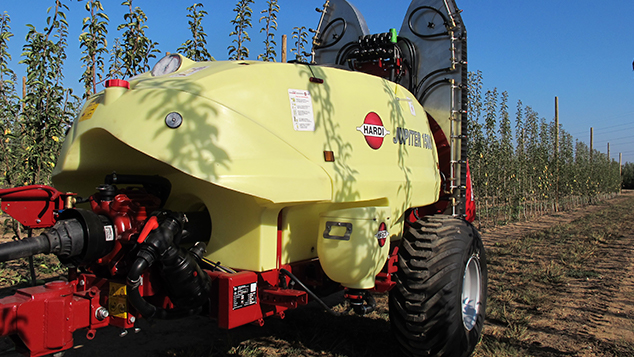 Multi-purpose
HARDI mistblowers lets you spray without compromise – all your different crops. Whatever you grow – from small bushes to large tree plantations.
Robust and simplicity
Benefit from the expertise gained with HARDI's many years of worldwide experience in orchard spraying. Everything from tank design and built to the latest electronic control systems is reflected in our sprayers.
Specifications
| Tank, litres | 1500 | 2000 | 3000 |
| --- | --- | --- | --- |
| Rinsing tank with 2 nozzles, l | 140 | 190 | 290 |
| Clean water tank, l | 15 | 15 | 15 |
| Agitation | 2 Venturi tank bottom, another front and 2 in the wheel area | 2 Venturi tank bottom, another front and 2 in the wheel area | 2 Venturi tank bottom, another front and 2 in the wheel area |
| Level indicator | Round dry tank level indicator | Round dry tank level indicator | Round dry tank level indicator |
| Diaphragm HARDI pump | 364/7 - 145 l/min | 364/7 - 145 l/min | 364/7 - 145 l/min |
| Hydraulic brakes | No | No | Yes |
| Road homologation | Yes | Yes | Yes |
| Wheels | 340/55-16 12PR | 340/55-16 12PR | 400/60 - 15,5 14PR |
| Track width | 1,25 | 1,25 | 1,4 |
| Overall width | 1,6 | 1,6 | 1,8 |
| Lights | Yes | Yes | Yes |
| Drawbar | Turnable "V" STD | Turnable "V" STD | Turnable HD |
| PTO Shaft | T-300-1 Homokinetic | T-300-1 Homokinetic | T-300-1 Homokinetic |
| Operation unit | CB/2 (2 fluid section with elec. valves with compensated returns) | CB/2 (2 fluid section with elec. valves with compensated returns) | CB/2 (2 fluid section with elec. valves with compensated returns) |
| Section filters | 2 inline filters | 2 inline filters | 2 inline filters |
| Fluid box | FB3610 (Standard) | FB3610 (Standard) | FB3610 (Standard) |
| Gearbox | 2 gears + neutral (3,5 / n / 4,4) | 2 gears + neutral (3,5 / n / 4,4) | 2 gears + neutral (3,5 / n / 4,4) |
Get in contact / Download our brochures