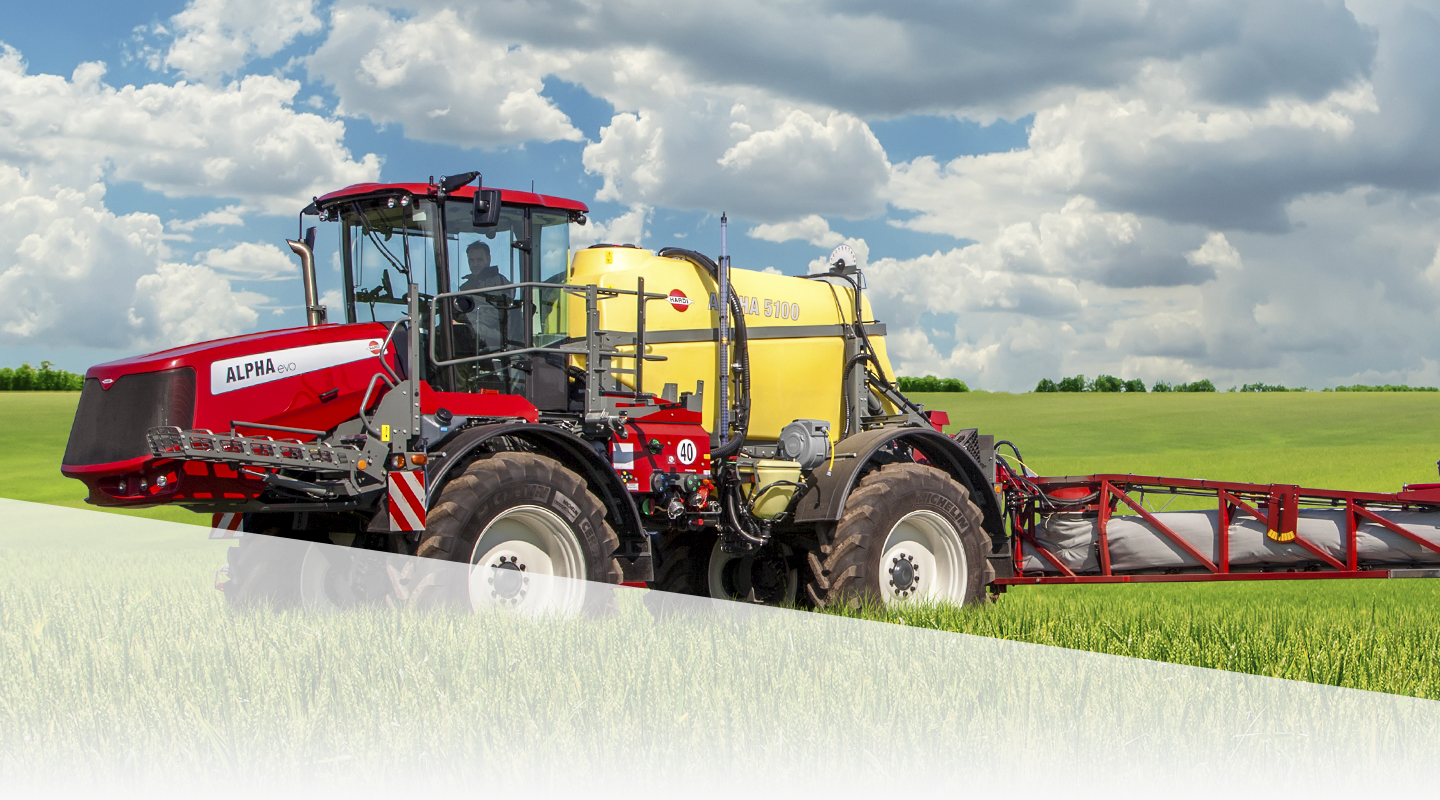 ALPHA evo
Tank Capacity
4200 / 5100 l.
Boom Types
TWIN FORCE / DELTA FORCE / ALU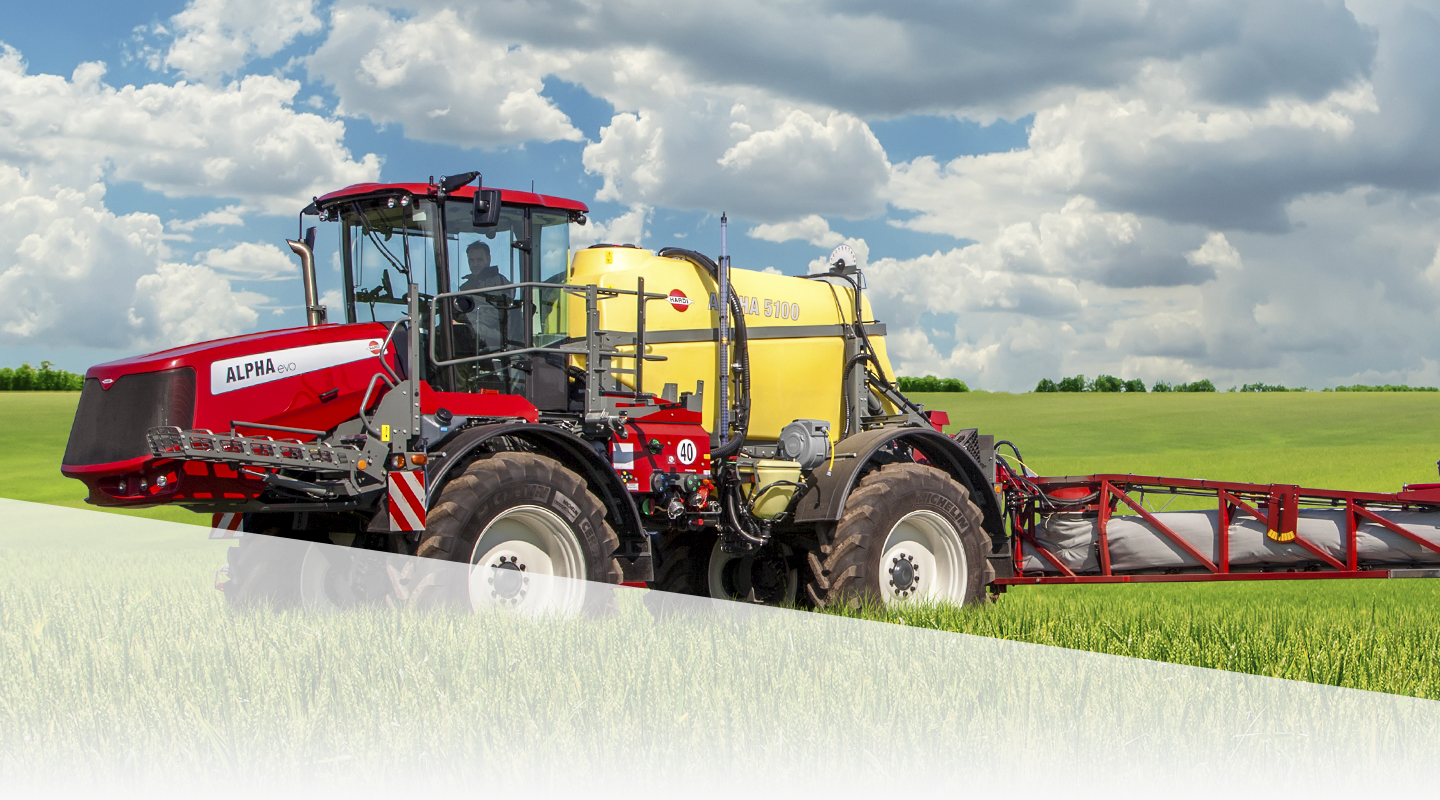 Tank Capacity
4200 / 5100 l.
Boom Types
TWIN FORCE / DELTA FORCE / ALU
Intelligent capacity
This self-propelled sprayer is optimised for capacity and advanced performance at an affordable price. A range of intelligent features and equipment, such as automatic height control, track width adjustment and floating suspension, guarantees application precision and speed. Everything is controlled from the comfort of the EvoCab.
With its state-of-the-art interior, superior visibility and simple operator interface, the cab is designed with comfort, productivity and safety in mind. From the cab's excellent air quality to the lower-than-average consumption of both fuel and chemicals, we commit to protecting the farmer and the environment.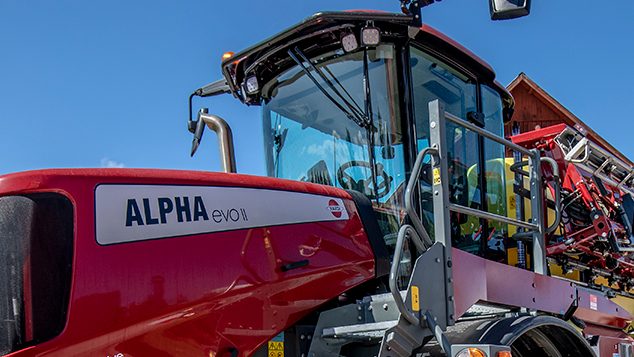 The EvoCab
The EvoCab is designed with performance and driver comfort and safety in mind
A combination of advanced ergonomics, visibility and optimisation (EVO) ensures superior operator comfort, productivity and safety. The EvoCab demonstrates HARDI's commitment to providing an ideal environment for operators.
Ergonomics
HARDI's main focus in developing the state-of-the-art EvoCab has been ergonomics. All features of the spacious cab – from the comfortable seat to the operator-friendly SprayCenter controller – are designed for maximum operator comfort.
Visibility
The unique 3-pillar cab design ensures excellent visibility. Tinted safety glass all around, even at the rear of the cab, provides the operator with more than 320° unobstructed panoramic overview of operations, including clear lines of sight to the boom.
Optimisation
The spacious EvoCab is optimised for both comfort and safety. Equipped with an oversized automatic climate control suitable for extreme weather conditions, the cab provides a pleasant, quiet and stress-free work environment.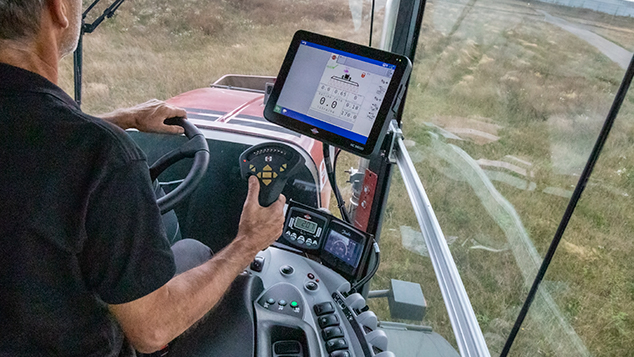 Control centre
Integrated intelligence
The ALPHA evo offers a wide array of customisable functions for optimum spray performance and precision.
The ALPHA evo is one of the most versatile high-capacity self-propelled sprayer on the market.
The SprayCenter combines a fingertip-controlled multifunction joystick with an HC 9600 12.1" or HC 9700 13" touch-screen controller. By integrating all important information on one screen – with split-screen mode allowing for simultaneous viewing of different aspects of spraying or other concurrent operations – the operator is ensured a complete overview at all times.
Intelligent spray application
Excess usage of chemicals is reduced with the GPS-controlled AutoSectionControl as a supplement to the manual guidance system. AutoSectionControl opens and closes boom sections automatically to avoid spraying headlands or other areas more than once. Not only is this of benefit to the farmer and his economy, but also to the environment.
ISOBUS compatibility
The HC 9600 and HC 9700 are fully ISOBUS compatible.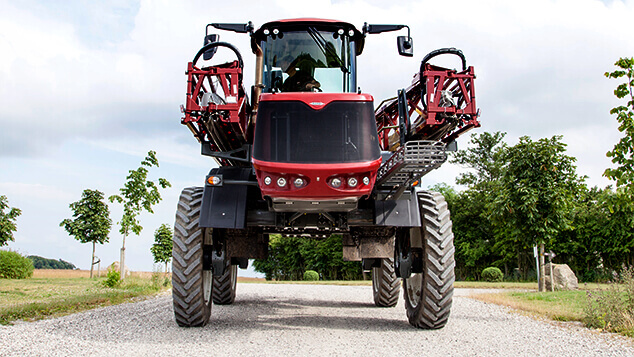 Adjustable on-the-go
From 180-280 and 220-320 cm
The ALPHA evo offers unparalleled flexibility when it comes to adjustment of track width. Changing between different tramlines, crops, fields or roads has never been easier with the hydraulic adjustment of track width (depending on tyre dimensions):
Version S 180 to 280 cm
Version M 220 to 320 cm
With up to 1 m between minimum and maximum, the ALPHA evo is one of the most adaptable sprayers on the market.
Hydraulic track width adjustment on-the-go is available on ALPHA evo EcoDrive with FloatRide.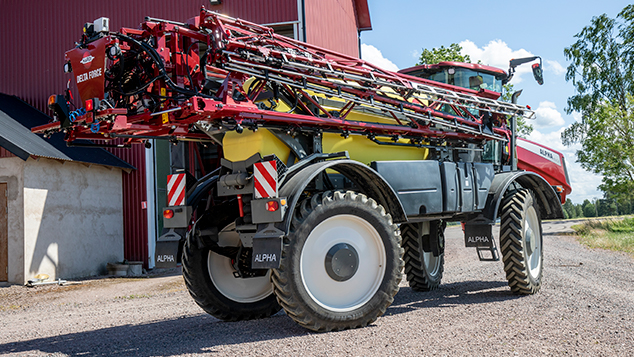 Freedom of movement
The ALPHA evo has been designed with an effective weight distribution between front and rear axles, with slightly more weight on the front (59% on front with a TWIN FORCE 30 m boom) to strike a perfect balance between driveability and minimal compaction.
Precision steering
The ALPHA evo is equipped with permanent 4-wheel drive. Steering modes include 2-wheel, 4-wheel and crab steering for high manoeuvrability, even on sloping terrain, in wet conditions or to protect sensitive soils. Transitions between steering modes are easily managed from the cabin. Re-alignment of the rear wheels is automatic. A lock is activated for road travel. On top of this, the ALPHA evo is designed for a very small turning radius, of down to 4.62 m for 4200 and 5.56 m for 5100.
For an even higher precision and comfort, the ALPHA evo offer the optional AutoSteering. By using GPS signal, all straight driving is managed by the AutoSteering system.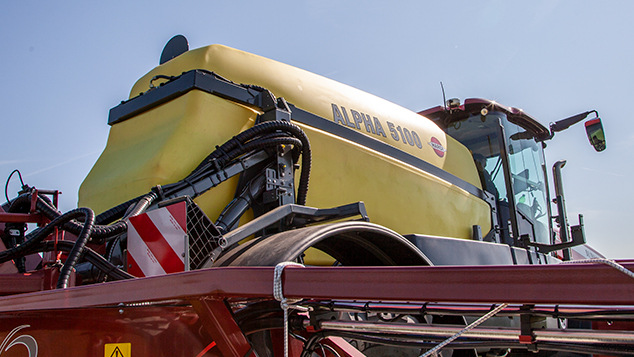 Large capacity
For all your spray tasks
Despite being light, the ALPHA evo offers some of the biggest tank systems on the market (4200 and 5100 l). By optimising the ALPHA evo's weight distribution, we have designed a sprayer with an excellent output capacity per weight unit. Less time needed to refill the tank means higher productivity, without having to compromise on performance, even in wet or otherwise challenging field conditions. The fact is that the ALPHA evo is a self-propelled sprayer for all your spray tasks.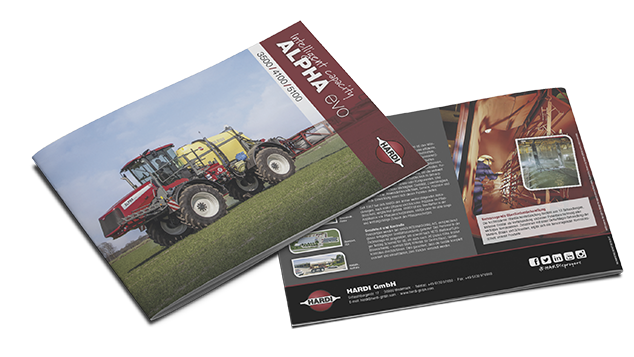 Get the ALPHA evo brochure
See all the information about the ALPHA evo including full specifications, in-depth information and much more!
Download your ALPHA evo brochure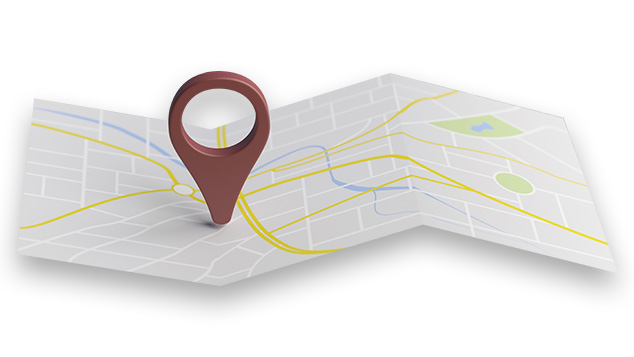 Your local HARDI dealer
HARDI Dealer network of more than 1500 locations around the world ensures quality, service and spareparts to farmers in more than 100 countries.
Find your local HARDI Dealer
Specifications
| Tank, l | 4200 | 5100 |
| --- | --- | --- |
| Pumps, type - l/min | 464/10: 280(540) - 464/12: 334 (540) | 464/10: 280 (540) - 464/12: 334 (540) |
| Booms | ALU, TWIN FORCE | ALU, TWIN FORCE |
| Engine Deitz 6 cyl. 217 hp / 160 kW (Stage IV / Tier 4f / Tier 3a) depending on country regulation | Basis | – |
| Engine Deitz 6 cyl. 245 hp / 180 kW (Stage IV / Tier 4f) depending on country regulation | Optional | Basis |
| Hydrostatic 4-wheel transmission (29 or 40 kph) | EcoDrive Basis | EcoDrive Basis |
| Coil spring suspension | Basis | – |
| Pneumatic suspension FloatRide | Optional | Basis |
| Steering | 4-wheels steering | 4-wheels steering |
| Mechanical track adjustment, cm | Basis, 40 cm slidding range | Basis, 40 cm slidding range |
| Hydraulic Track Adjustment (HTA) - electronic control 1.80 to 2.80 m (only with FloatRide) | Optional | Optional |
| Turning radius 200 cm track width (middle of chassis), cm | 462 | 530 |
| Weight (basis machine, empty)*, kg | 9.470 | 11.600 |
| Weight, front axle, basis machine in transport (empty)*, kg | 5.490 | 6.900 |
| Weight , rear axle, basis machine in transport (empty)*, kg | 3.980 | 4.700 |
| Total length*, m | 9.5 | 10.23 |
| Total height*; cm | 390 | 390 |
| Width with ALU boom (24-44 m), m | 2.55 | 2.55 |
| Width with TWIN FORCE (24 to 30 m), m | 3.00 | 3.00 |
| Width with TWIN FORCE (32 to 36 m), m | 3.34 | 3.34 |
| Track width manual slidding axle** (380/90 R46), cm | 182 - 329 | 182 - 329 |
| Track width HTA axle** (380/90 R46), cm | 180 to 280 | 180 to 280 |
| Wheel base, cm | 370 | 430 |
| Clearance (380/90 R46), cm | 120 | 125 |
| RinseTank, l | 410 | 600 |
| Fuel tank, l | 320 | 400 |
| Filling capacity water, l/min | 490 | 490 |
| Filling capacity TurboFiller, l/min | 120 | 120 |
* Dimension and weight are given for ALPHA evo 36 m TWIN FORCE boom - 380/90 R46 tyres and chassis clearance 120 cm
** Minimum track width is wider with wider tyres (depending on axle type)
Get in contact / Download our brochures