We always prefer to look for opportunities
HARDI NEWSLETTER visited Mikael Gilbertsson at Stjernsunds Gård farm north of Lake Vättern in Sweden. Mikael has owned Stjernsunds Gård since 1994, and together with his wife Inga-Lill Gilbertsson, he has purchased other farms since then, so they are now farming about 1,300 ha of land, as well as veal and egg production.
Mikael Gilbertsson operates about 800 ha of organic agriculture in parallel with a number of other activities.
The principle of keeping the organic crops clean and free of the great pressure from weeds and lice is achieved by boosting crop growth, so they are better equipped to resist pests and diseases. They are thus "shaded" against weeds and the plants are given a high content of sugar. The basic idea is that the speed of photosynthesis in the plants is increased by spraying them with active substances produced in-house. Combined with a good application of poultry fertiliser, the level of undesirable pests is kept to a minimum.
The crops are sprayed 2-3 times during the growing season with about 20 l of active substance
and 180 l of water per ha. The fields is lightly harrowed a few weeks after seeding, which is a widely known technique that has been used for many years to destroy weeds and maintain the
crops.
Samples of plant sap are taken from time to time to measure the sugar content. Experience has
shown that after spraying with active substances from the "compost tea", sugar content increases
by up to 50% within several days of spraying, and Mikael is thus equipping the plants to resist
attack and force pests into the "background".
"We know HARDI very well and have confidence in how they follow up on service and spare parts." Mikael Gilbertsson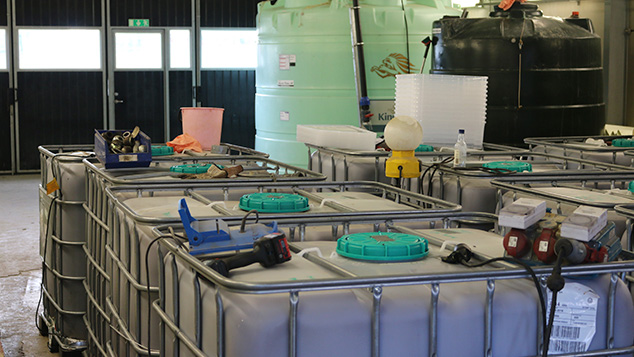 The organic active substances referred to as "compost tea" are extracted in the large
round containers seen at the back of the photo. They are supplied with the electrical heating and
the process takes about 24 hours.
The smaller 1,000 l containers in the foreground are used to produce a kind of fermentation liquid
for spraying the grassland. The liquid is sprayed onto the grass, which is tilled at the same time.
The result is a fermentation of the grass when it is turned in the soil, which helps to raise the
nitrogen content of the soil prior to seeding cereal crops.
HARDI NEWSLETTER: What drives you to work with a combined operation of both conventional and organic farming?
Mikael: "It's exciting to find new methods, and it provides the business with an economic surplus.
We probably can't manage more than the about 800-900 ha organic operation. We achieve a
higher price on the sale of crops and also sell some of the harvest as organic seed."
HARDI NEWSLETTER: Do you produce your own formulations, and can you reveal the process of how they are produced?
Mikael: "We produce two different formulations in-house, both based on compost, and brew a kind of "compost tea" in large containers with a heating supply. The processing time is about 24 hours, and the recipe belongs to a consultant who has links to the farm."
HARDI NEWSLETTER: Are the conditions different for treating and spraying the organic products?
Carl-Magnus – the farm's sprayer pilot: "I run both the COMMANDER TWIN sprayer from time to
time on conventional agriculture, and a lot with the NAVIGATOR on the organic farm, so that gives us lots of experience. We have to keep the organic products highly agitated in the tank, as there is a high content of lime and other substances that can easily settle and tend to clog the filters if you aren't careful. But apart from that, there's not much difference."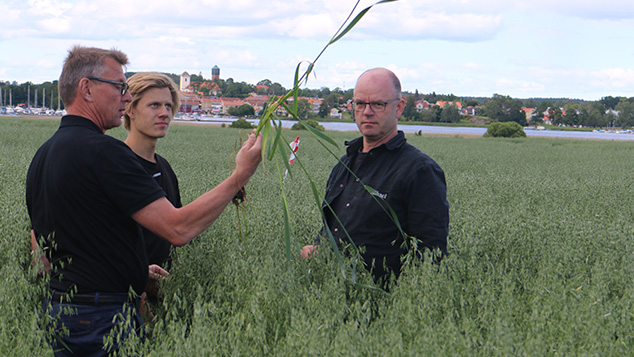 The crops are sprayed 2-3 times with "compost tea" during the growing season.
The crops appeared fine and very clean with minimal amounts of weeds. The plants looked healthy and seemed to be growing well.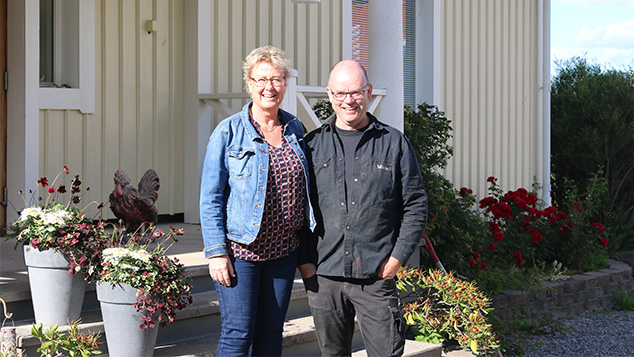 Inga-Lill and Mikael Gilbertsson spend a lot of energy making sure that life on the farm is
good.
HARDI NEWSLETTER: What's the reasoning behind your choice to use a HARDI sprayer?
Mikael: "We get good service from the Lantmännen cooperative, and the sprayer has a very high utility value. We know HARDI very well and have confidence in how they follow up on service and spare parts."
HARDI NEWSLETTER: Where will Swedish agricultural be in 5 years?
Mikael: "That's a very difficult question. We try to keep up with trends and the latest news amongst consumers. The agricultural policy which is applied is really crucial in determining the kind of opportunities that farms will have to try something new. One issue is the farms that are established. The second issue is that politicians and banks must provide the opportunity for young people in the next generation to come along and help renew the way we run agriculture."
Facts about Sternsunds Gård:
800 ha of organic operations
Crops 2018: Malting barley, oats for sowing and feed, wheat, peas for sowing, fescue for sowing,
timothy for sowing, rape
500 ha of conventional operations
Crops 2018: wheat, oats, winter rape, barley, rye, willow/salix
Machines:
2 combines
8 tractors
1 COMMANDER 4500 TWIN 24 metre sprayer (conventional operation)
1 NAVIGATOR 4000 DELTA FORCE 24 metre sprayer (organic operation)
15 other machines for seeding, dry fertiliser spreaders, ploughs, etc.