Mr. Zbigniew – a professional farming contractor
NAVIGATOR 4000 l – DELTA FORCE 24 m
With 11 harvesters already, the business just seems to keep growing. Mr. Zbigniew himself is growing a bit over 160 hectares of corn, rape and wheat, but as a contractor he is spraying more than 3,000 hectares a year. From now on, this will be done using his brand new NAVIGATOR 4000-litre sprayer with the high performing two-folded 24-metre DELTA FORCE boom.
First NAVIGATOR with AutoSelect in Poland
The machine is the first to be delivered in Poland with the HARDI AutoSelect system.
"With this feature, we are able to control the spray job completely from the cabin of the tractor. We can choose between two different nozzles automatically or manually when needed, such as for switching between fertilizer and our regular plant protection products," Mr. Marchin explains.
It was a big decision when they decided to replace the old sprayer. "We looked at various brands at the different exhibitions in Poland, but ended up buying the HARDI sprayer for its performance and quality. We went to the factory in Denmark and saw for ourselves how the machines were made."
DELTA FORCE was the main reason
"The DELTA FORCE boom was one of the main reasons why we chose the HARDI NAVIGATOR," Mr Marchin continues. "It is very strong – and really stood out from the other booms on the market."
The NAVIGATOR is the first machine on the farm to offer GPS precision systems. "The AutoSectionControl system for automatically switch on and off sections works great. The EGNOS system together with the HC 9600 touch display gives us great flexibility in the spray job."
When considering the future of their business, Mr. Marchin adds: "We might consider going for a self-propelled sprayer next time, to meet the huge demand we see from our customers.""On the fields we produce cereals, corn, rape and food for the animals. This year we will also start with beetroots," Waldemar explains.
"It is very strong – and really stood out from the other booms on the market." Mr. Marchin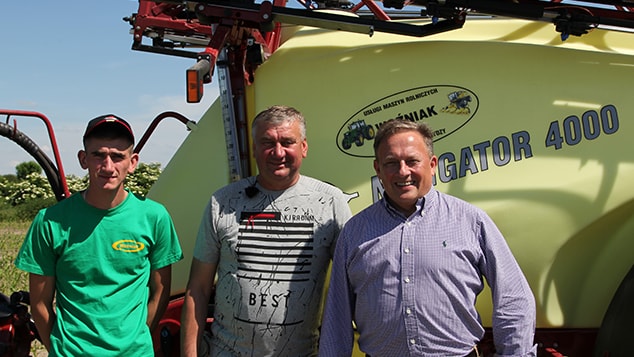 NAVIGATOR SPECIFICATIONS:
Tank: 3000 / 4000 / 5000 / 6000 l
Track: IntelliTrack, high performing and stable drawbar steering
Controller: HC 5500, HC 6500, HC 8600, HC 9600 or ISOBUS
TurboFiller: Efficient handling of liquid and powder
Liquid system: DynamicFluid4 for precise application in all conditions
Axle: Fixed 1.8 / 2.0 m or adjustable 1.5-2.25 m
Booms:
EAGLE: Simple and strong booms 18 to 30 m
DELTA: Compact and high-performing 18 to 24 m
DELTA FORCE: For higher speeds and greater performance 24 to 39 m