The HARDI group strengthens its selfpropelled
strategy by MATROT merger
The HARDI group and MATROT – both owned by the French EXEL Industries group – have worked together on several occasions and have latest together developed a large self-propelled sprayer for mainly the Australian and US markets.
The result is the high capacity RUBICON 9000, a self-propelled sprayer with a 9,000 l tank, 386 HP engine, 48 m spray boom and a spraying speed up to 35 km/h. It takes a lot of good cooperation, technical and market understanding and efforts from the two companies to make a successful product in that scale. Over the past growing season, the product has with great success been tested in Australia, and the feedback from the test users have been very positive.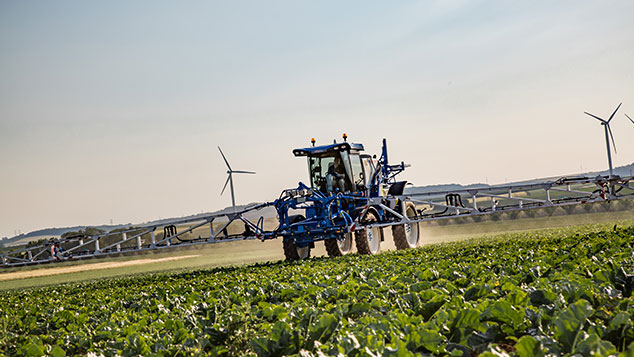 Welcome Rubicon
The RUBICON was introduced and launched for sale in November 2016 in Australia and is about to be launched in North America and other broad acre markets. To be able in the future to offer our customers even better solutions, answer their demands with regard to both products, features and service, we are proud to announce that the cooperation between the 2 companies MATROT and HARDI will be developed into a merger within the HARDI group. By this merger, we will be able to offer a wider range of products both in France and in the rest of the world, make our sales and service efforts stronger towards our dealers and endusers, and last but not least make better use of our R&D resources to get better products to the markets – and faster.
Brand positioning
The future position of the brands will be divided as follows: In France, the HARDI group will be offering three different brands: HARDI, EVRARD and
MATROT.
The MATROT brand will continue to offer self-propelled sprayers with front booms. The EVRARD brand will offer lift mounted, trailed and self-propelled sprayers, all with rear booms. The HARDI brand will offer lift mounted, trailed and self-propelled sprayers with rear booms. For markets outside France, the self-propelled sprayers with both front and rear mounted booms will together with the existing HARDI range be sold under the HARDI brand name with the exception of a few markets where MATROT has already a name and presence. The existing production sites in Beaurainville and Noyers-Saint-Martin, France, will continue. MATROT, EVRARD and HARDI are all brands with a very strong market approach and long lasting customer relations on their respective markets. The HARDI group is seeing this merger as a very important step to get an even stronger position in Europa and in the rest of the world.